X-Ray Baggage Scanner with Powerful Detection System to Find the Suspected Weapon at Checkpoint and Airport
The high-performance baggage scanner offers advanced new 7-colors imaging technology, shows images in 7 colors, enables users to achieve optimal material identification by allowing them to view screened objects in 7 colors, each color correcting to a specific range of atomic number.
In addition, Safeagle 7-colors and Z-scan are designed to help operators detect a range of dangerous liquid, explosives and narcotics respectively in real time by marking a potential threat on the X-ray image. Safeagle Systems detection algorithms are based on regulatory material analysis techniques.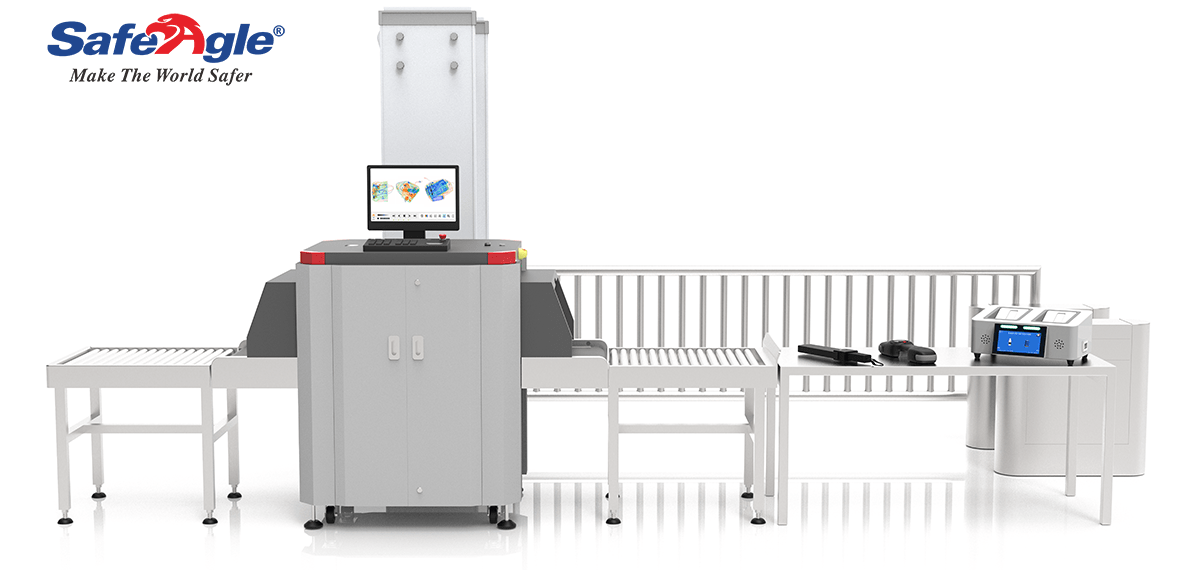 Safeagle Hot Sales CE FCC Compliance Security X-Ray Baggage Scanner
Every production process of the Safeagle x ray screening device must be strictly controlled by the ISO 9001 Quality Management System Certificate of Conformity. All the luggage x-ray machine has passed the international standard, CE, RoHS, FCC compliance, and the Radiation Safety License.
The X-ray baggage scanner machine is also named X-ray inspection system, which is the most precise device. To make it easy for our users, Safeagle provides the finished product to our clients, no more complicated installation, they only need 3 steps, to plug in and on-key startup then opens the software, a brand new scanning screen will appear.
The advanced imaging capability of our x-ray baggage scanner raises the standard for small-sized x-ray screening systems and delivers an array of features that give operators the information they need to clear suspicious items quickly and more effectively. Safeagle x-ray security scanner is your best choice.
Safeagle X-ray baggage scanner adopts revolutionary imaging technology with clear 7-colors substance resolution technology, raising the standard for x-ray screening systems. It is rare in the world to be able to do such imaging of security inspection machines, which is enough to prove our strength and our determination to improve and improve day by day.
[Safeagle X-Ray Baggage Scanner new 7-colors image from our real case]