X-Ray Baggage Scanner F5030 with Cost-effective Security Solution Machine
The model F5030 Portable X-Ray Baggage Scanner is the most compact machine in SAFEAGLE systems, with a tunnel opening 504(W)x304(H)mm, designed to minimize cost and required space. The F5030 was developed for customers who only need the basic functionality and 3 colors of x-ray imaging.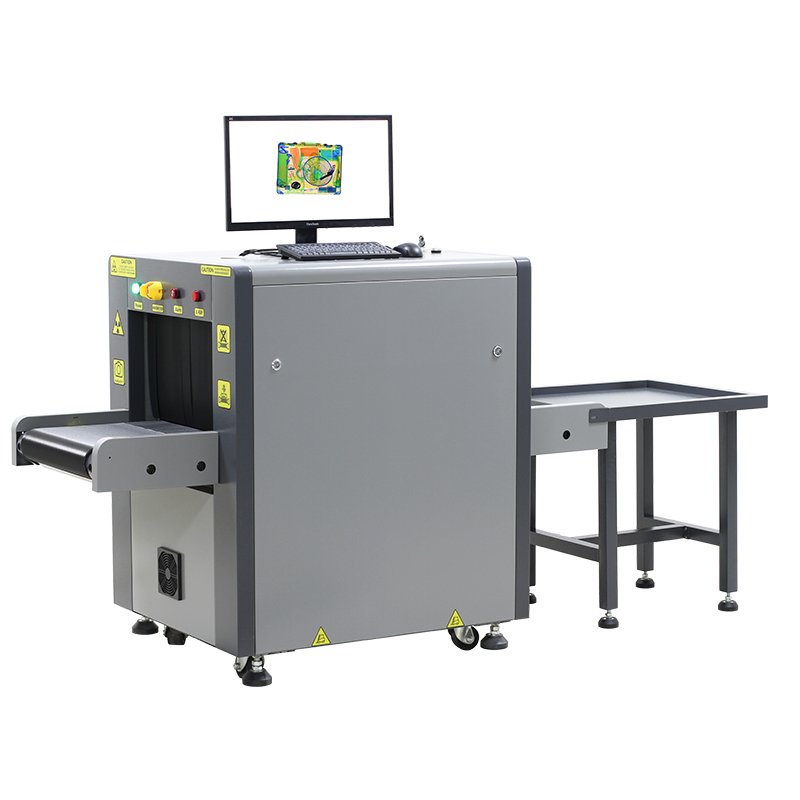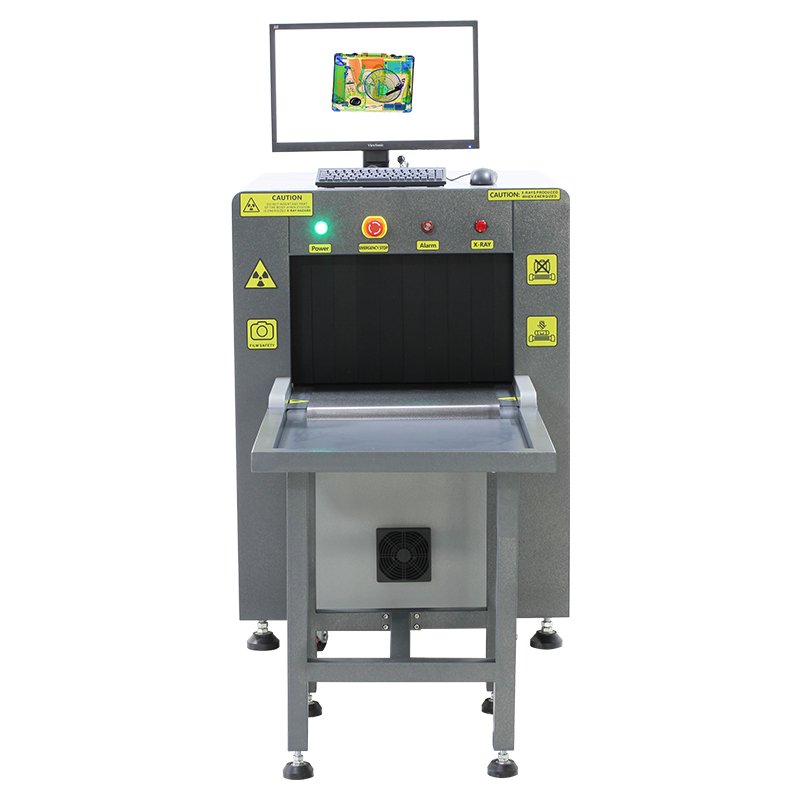 KEY FEATURES
Single-energy
3 Colors Imaging
Basic Imaging Detection System
Small Baggage Inspection
Easy to use and relocated
DIMENSIONS CONVEYOR BELT

| | | | | |
| --- | --- | --- | --- | --- |
| Tunnel Size: | 504 mm (W) x 304 mm (H) (21.9 x 14.0 in.) | | Maximum Conveyor Load: | 100kg(220lb), evenly distributed |
| System Length: | 1,846 mm (66.9 in.) | | Conveyor Height: | 675mm(28.0 in.) |
| System Width: | 785mm (34.5 in.) | | Conveyor Speed: | 0.22m/s |
| System Height: | 1,220 mm (48.2 in.) | | Noise Level: | <58DB |
| System Weight: | 310kg(683lb) | | Material: | Diamond Cloth and Lead |
X-RAY GENERATOR

| | | | | |
| --- | --- | --- | --- | --- |
| Anode Voltage/Current: | 80KV; 0.6MA | | X-Ray leakage: | 0.1µGy/h |
| Penetration: | 8mm steel guarantee, 10mm steel typical | | Beam Direction: | Diagonally Upward |
| Wire Resolution: | 38AWG | | Film Safety: | Guarantee up to ISO1600(33DIN) |
BASIC SINGLE ENERGY 3 COLORS IMAGING
The F5030 is working with the Basic Imaging Detection System(BIDS) with more than 15 practical imaging processing tools, enables operator to identify materials inside the bag by allowing them to view screened objects in 3 colors and process the image in different tools, to find the suspicious threats by the shape mainly in the x-ray perspective image.
DENSITY THRESHOLD ALERT
Density Threshold Alert is designed to assist operators in the real-time detection of a range of dense objects during the scanning process by automatically highlighting a suspicious threat on the X-ray images. These kinds of objects will be displayed in black and marked with a red box, which greatly improves the inspection and helps to find the threats effectively.
THINNER OBJECT DETECTION TECHNOLOGY
Safeagle Systems' latest proprietary image enhancement tool utilizes the new innovations to detect the thin objects every single inspection, therefore solving the problem of missed inspection for the thinner objects during the scanning process.
EASE OF USE PROVIDING HIGH PROTECTION LEVEL
The Safeagle F5030 small portable x-ray scanner is supported by a rigid-steel structure with a humanism design for safety.
Provided with System Energized, X-Ray on indicators and emergency stop buttons at both ends of the X-Ray tunnel;
4 high-strength caster wheels at its base for ease of maneuverability, enable operators to move the scanner easily;
Offer adjustable wear-resistant foot cups to achieve stability and security during use;
The button and key switch are securely located on top of the baggage inspection system, can easily one-key open and close anytime.
GOVERNMENT REGULATORY COMPLIANCE
The Safeagle F5030 Portable X-Ray Baggage Scanner is in full compliance with the mandatory regulations for aviation security in the European Union.
RADIATION SAFETY PERMIT
CE MD DIRECTIVE 2006/42 EC&LVD DIRECTIVE 2014/35/EU
FCC 47 CFR PART 18 REGULATION & ANSI C63.4 CLASS B
RoHS DIRECTIVE-2016/65/EU EN62321.2008
* Pls contact us for further details of Safeagle F5030 Portable X-Ray Scanner.