Military Force Preferred Explosion Proof Bomb Blanket
FJ106 bomb blanket is an all-important barrel type security device that can effectively prevent the horizontal diffusion of shock waves and debris from the blasting grenade or other explosives, which can reduce even avoid the risking damage to the surrounding populations and the important facilities, such as the precious cultural relics, valuable instruments, etc. The anti-explosive tank is one of the essential security protection devices that can be used in all kinds of large-scale activities and important public places, such as armed police, civil aviation, railways stations, ports, customs, venues, and other explosion-proof security check departments.

KEY FEATURES
Explosion Proof
Reduce Shock Waves of Bomb
High-Quality Iron and Steel Made
Antidetonating Performance
The Preferred Device of Armed Police
DIMENSIONS & MATERIAL

| | | | | |
| --- | --- | --- | --- | --- |
| Inner Fence Diameter: | ≥450mm (17.7 in.) | | Shape: | Blanket |
| Inner Fence Height: | ≥305mm (12.0 in.) | | Structure: | 1*inner fence, 1*outer fence, 1*blanket |
| Outer Fence Diameter: | ≥650mm (25.6 in.) | | Blanket-Material: | superior polyethylene fiber |
| Outer Fence Height: | ≥150mm (5.9in.) | | Max. Tolerance: | 70g TNT explosive |
| Blanket Weight: | 30kg(66lb) | | Accessories: | Net bag, four caster wheels |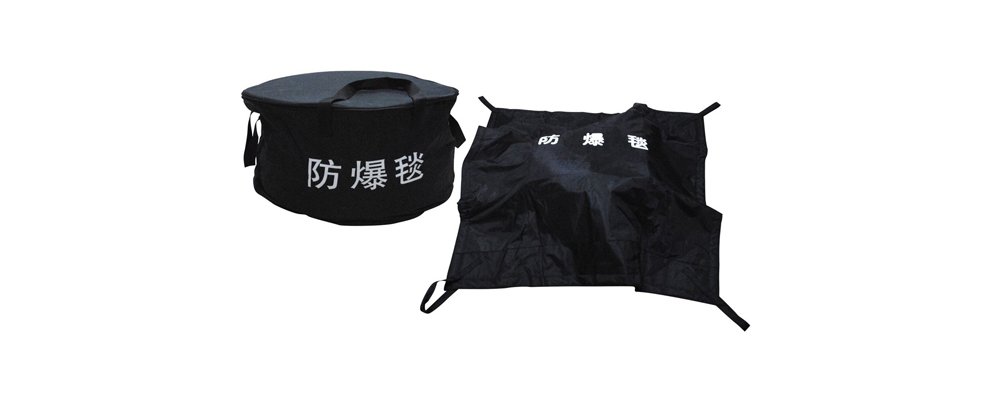 ANTIDETINATION PERFORMANCE FOR 70g TNT
The explosion-proof blanket adopts the advanced double-fence structure, which can effectively block the destructive effect of 82-2 grenade explosion, which is equivalent to the explosive power of 70g TNT high explosive. It can form a three-layer blocking effect on explosive debris and impact effect. Maximizing the protection of people and objects near the explosion center from damage, it is an important means of temporarily disposing of explosives on site.
IMPACT-RESISTANT STRUCTURE
The bomb blanket is made of superior polyethylene fiber with excellent anti-fragment performance. The special sewing process ensures the full absorption of the energy generated by the explosive fragments, which can effectively reduce the shock waves and debris generated by explosives to protect the surrounding people and the property such as public facilities, cultural relic, vital documents, etc. Now the anti-explosion tank is becoming a preferred security device of armed police, public security, and other government departments.
GOVERNMENT REGULATORY COMPLIANCE
The bomb disposal tank has passed the certification by the Testing Center for Quality of Special Police Equipment under the Ministry of Public Security of P.R. CHINA.
APPLICATION
It is mainly used for temporary isolation of explosives, temporary storage, temporary disposal, and security protection, and is essential equipment for explosion prevention. It is widely used military force and civil aviation, police station, government building, railway station, checkpoint, port, customs, and other places.

Border Crossings

Government Building

Law Enforcement

Security Checkpoints
* Pls contact us for further details of Safeagle FJ106 Bomb Blanket.