Safeagle Body Temperature Detector Column with Face Recognition SE20102
---
Product Introduction
At present, the market is full of infrared single-point temperature measurement equipment, forehead measurement, waist measurement, and other methods. Such Body temperature detectors cannot meet the import and output of data. Statistics and analysis of individually measured temperatures.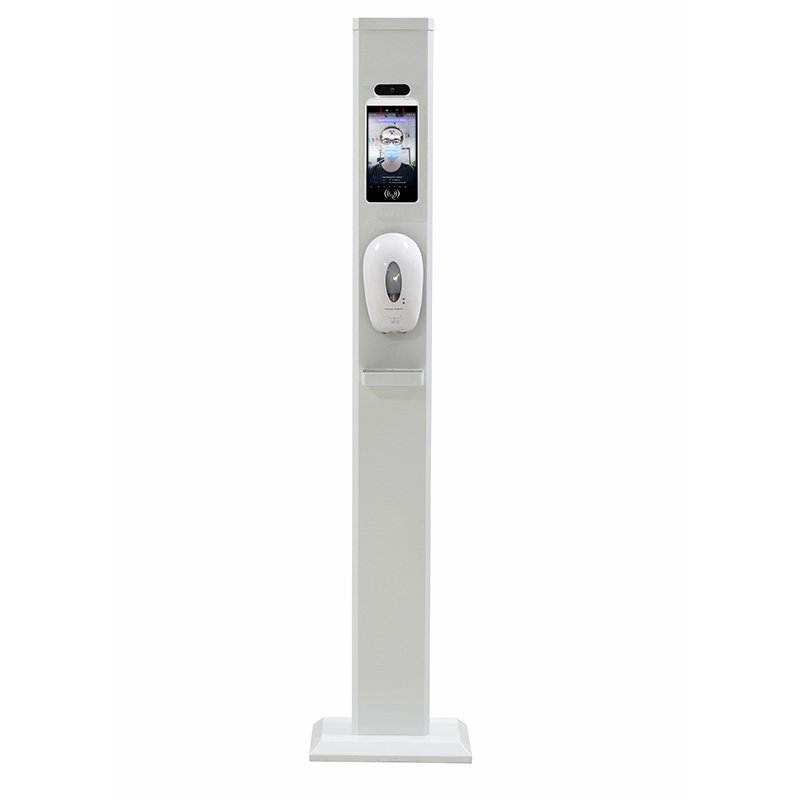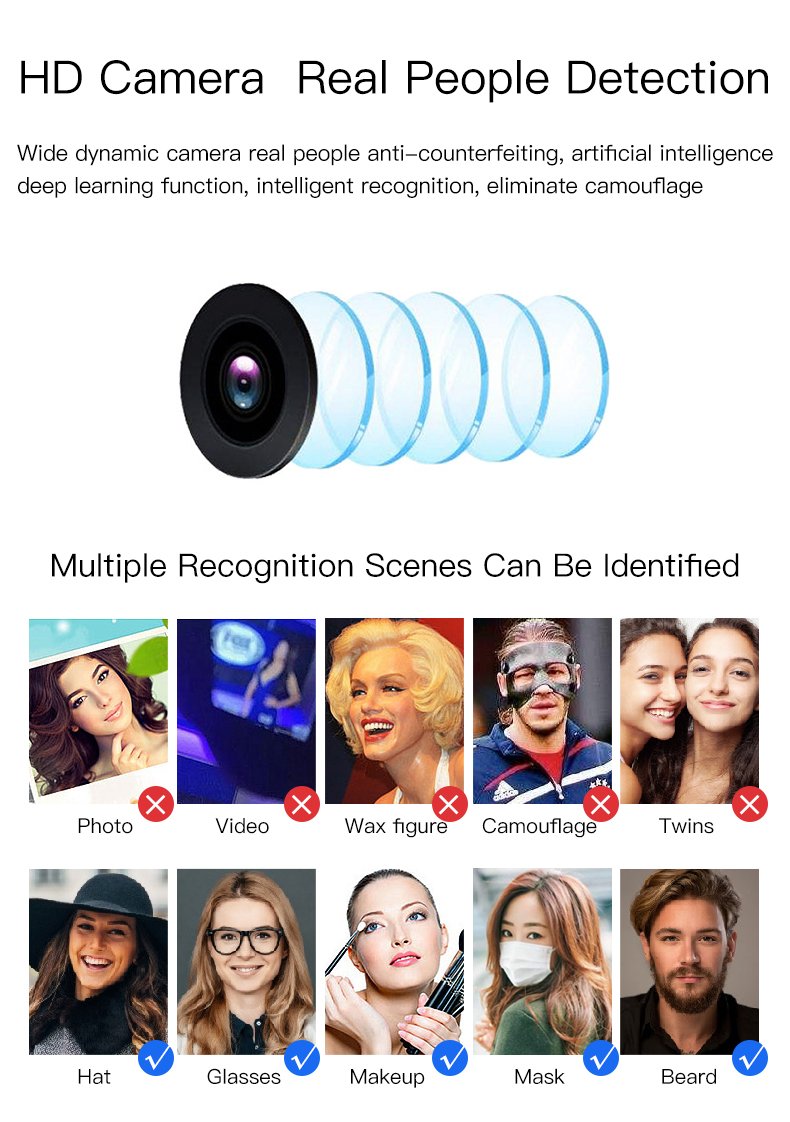 SPECIFICATION
Product Model

Category

Feature

Camera

Resolution

200W

Type

RGB+Infrared Sensor

Aperture

4.0mm

Focal Length

0-2M

White balance

auto

Screen

Size

8-inch, full-view IPS LCD screen

Resolution

1280*800,brightness 400cd

Processor

CPU

4 core RK3299

RAM

DDR3

4GB

ISP

Image Processing

Built-in dual ISP

Local storage

TF card

32GB

Accessory

Temperature Measurement

Thermal imaging temperature detection module (Hyman, Germany)

Fill light

Infrared, LED fill light

Card reader module (reserved)

IC/ID card reader, QR code reader,

Network module

Support wired networking, 2.4G wifi, 4G network card

Port

Audio

All the way audio line out

USB port

USB2.0 micro 2pcs

Serial 232

2 RS232 interfaces, 1 WG input, 1 WG output

Wiegand interface

2.5mmX2PIN

Reset interface

Side holes, external buttons

OTG interface

1 way

Function

Temperature Measure Distance

0.2-2M

Temperature measurement accuracy

±0.3℃

Face recognition algorithm

Despise

Local (offline use)

Local 20000 face database

Face Detection

Support simultaneous detection and tracking of 5 people

1:N Face recognition

Support 1 in 10,000 mis-recognition rate, 99% pass rate

1:1

Support card authentication module (optional), ID card module can achieve 1: 1 face comparison

Stranger detection

support

Distance recognition

support

Equipment (remote upgrade)

support

Device Interface

Equipment management, rights management, personnel / photo management, record query, etc.

General Parameters

IP level

IP64,support waterproof & dustproof & outdoor use

Power supply

DC12V

Working Temperature

-10°—60°

Working Humidity

10%—90%

Static electricity

4K/8K

Power consumption

5W MAX

Installation method

Wall mount, desktop stand, gate installation, floor stand
● Infrared Temperature Measurement 100MS temp measurement (within 0.7 m), ± 0.3 ℃ fever scanner temperature measurement accuracy, suitable for the indoor windless environment
● Face Recognition 100MS accurately recognizes human faces, 20,000 face libraries, can resist non-living attacks such as mobile phones, computer photos, videos, black and white
● High-Temperature Alarm Real-time audible and visual alarm for abnormal temperature, dual authorization for face + temperature measurement, fast passage control
● Web Management Upload the temperature identity information in time, temperature machine data can be checked and traceable
SOFTWARE ALGORITHMS DESPISE
Face Recognition, face database supports 2W faces, top1 hit rate is 99.99% Authentication comparison accuracy rate is more than 99%
Face tracking and detection takes about 20ms

Face feature extraction takes about 200ms

The time required for living face detection is 0.2ms; Feature comparison takes 0.5ms (10,000 face database, multiple recognition and average)
APPLICATION
Widely used in various public places and various places where face access control is required,like school, community,office builting,hotel, hospital,etc...
Integrated the terminal equipment & non-contact disinfection device as a whole set, the overall appearance is elegant, high practicality; easy plug-and-play, which is very convenient and flexible for installation; reserved data interface location, convenient for data import and output.Body temperature detector
GOVERNMENT REGULATORY COMPLIANCE
The Safeagle SE20102 Body Temperature detector is in full compliance with the mandatory regulations for aviation security.
RADIATION SAFETY PERMIT
CE MD DIRECTIVE 2006/42 EC&LVD DIRECTIVE 2014/35/EU
FCC 47 CFR PART 18 REGULATION & ANSI C63.4 CLASS B
RoHS DIRECTIVE-2016/65/EU EN62321.2008
Product Certification

Production workshop

* Pls contact us for further details of Body Temperature Detector.