Safeagle Thermal Temperature Screening Crossbar System SE-C1
---
Product Introduction
Safeagle 2021 cutting-edge SE-C1 thermal temperature screening system is highly integrated into the crossbar, especially for the initial temperature screening for COVID-19, with the crucial blackbody and embedded small computer (SoC) to be the "portable and dismountable temperature measuring solution" of all the walk-through metal detector in the market. It's coming with an indicator light in 3 states to remind the operator of visual and audible alarm at the same time. It can be installed in all the walk-through metal detector series in the current market, only needs to install the crossbar directly, no complicated cable connection, only 1 power line required. Accurately identify and draw the face detection area and then lock it, reducing the false alarm and miss rate. It allows accurate temperature measurements from a distance for objects that are moving in the distance of 0.5~3m. It is a noncontact technology that measures or "sees" infrared wavelengths then converts the body temperature information. Cameras with a low NETD will detect smaller temperature differences and provide higher resolution images with increased accuracy. Highly integrated. No need for dangerous wires or cables or unstable tripods. There are no add-ons that need to take up space. It's also a good solution to save more shipping costs. Replace the traditional big size external black body, SE-C1 works with a small one in front of the camera, realizing the automatic calibration of ambient temperature to keep a stable accuracy.
* Simultaneous for metal detection and temperature screening
* High-efficiency rate of the existing screening process.
* No additional components that require floor space.
* Provides fast and accurate measurements of fever people that are difficult to reach.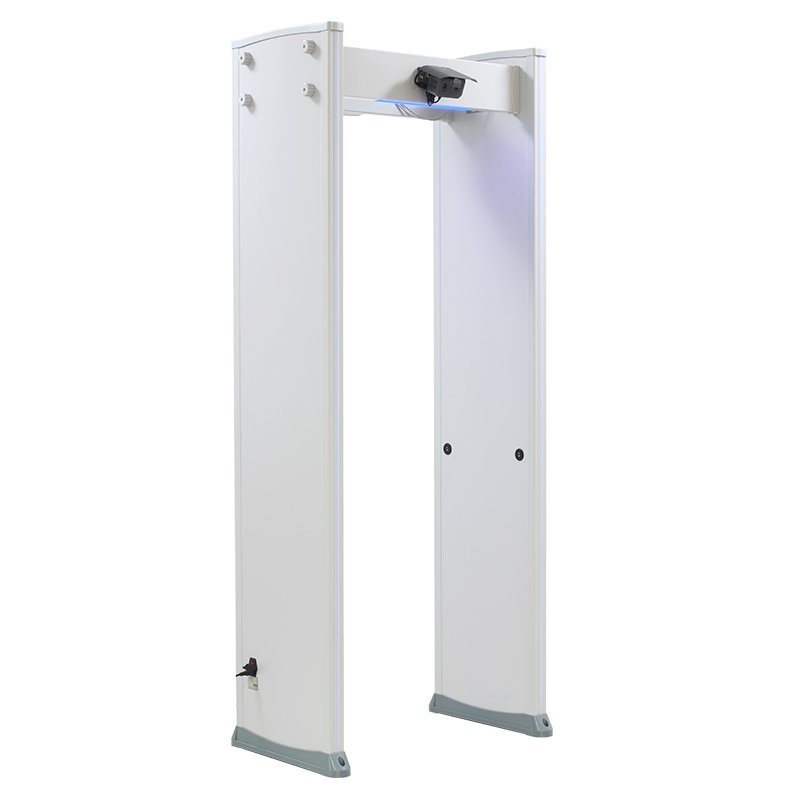 Parameters
Type of Use…………………………: Temperature Detection
Sensor Type………………………..: Vox Uncooled Thermal Sensor
Effective Pixel………………………:320*240(76,800 resolution)
Pixel Size……………………………..:17µm
Spectral Range……………………:8µm~14µm
Thermal Sensitivity (NETD)…: ≤50mK at f/1.0(0.05℃)
Sensor Type…………………………:1/28 inches CMOS
Max. Resolution…………………..:1920*1080
Pixel/SNR……………………………..:200W/>56dB
Temperature Range……………:35℃~38℃
Accuracy……………………………….: ±0.3℃
Operating Temperature…….. 0℃~35℃
Storage Temperature…………. -20℃~40℃
Detection Range…………………. 0.5-3m
Product Certification

Production workshop

Note:
The Thermal Temperature Screening Crossbar System SE-C1 is the preliminary temperature screening and disinfection system, which does not diagnose if someone has corona virus, but could help determine if someone has an elevated temperature and needs further attention or detection.