Safeagle Thermal camera Sterilization Disinfection Gate SEDT-N2
---
Safeagle SEDT-N2 Thermal camera Sterilization Disinfection Gate is the newest design model especially for body temperature measurement and body disinfection at the entrance, integrated with a thermal camera system, plug and play directly, 360-degree sterilization, non-contact rapid temperature screening in crowded places, no-stop, real-time alarming for suspected fever people, also can track the access records with temperature information anytime.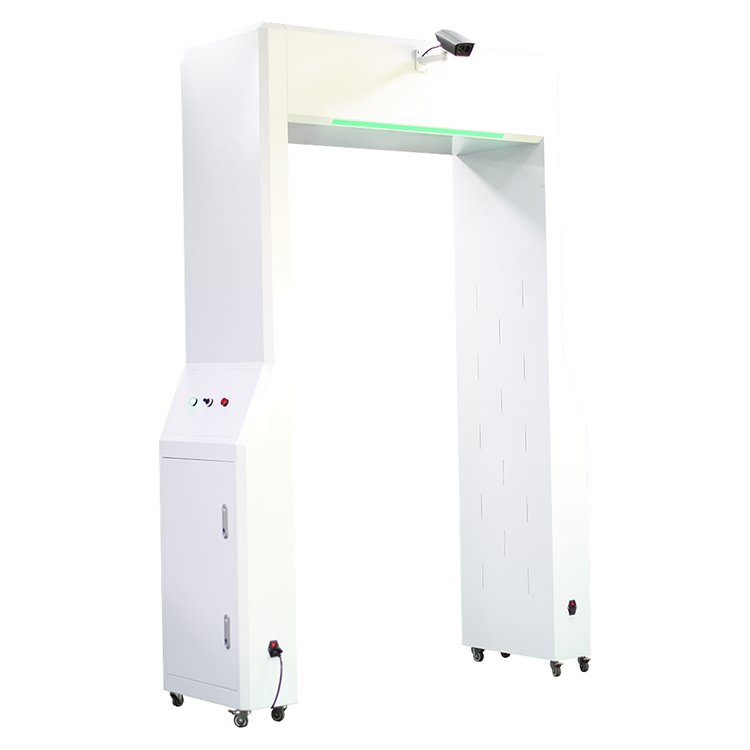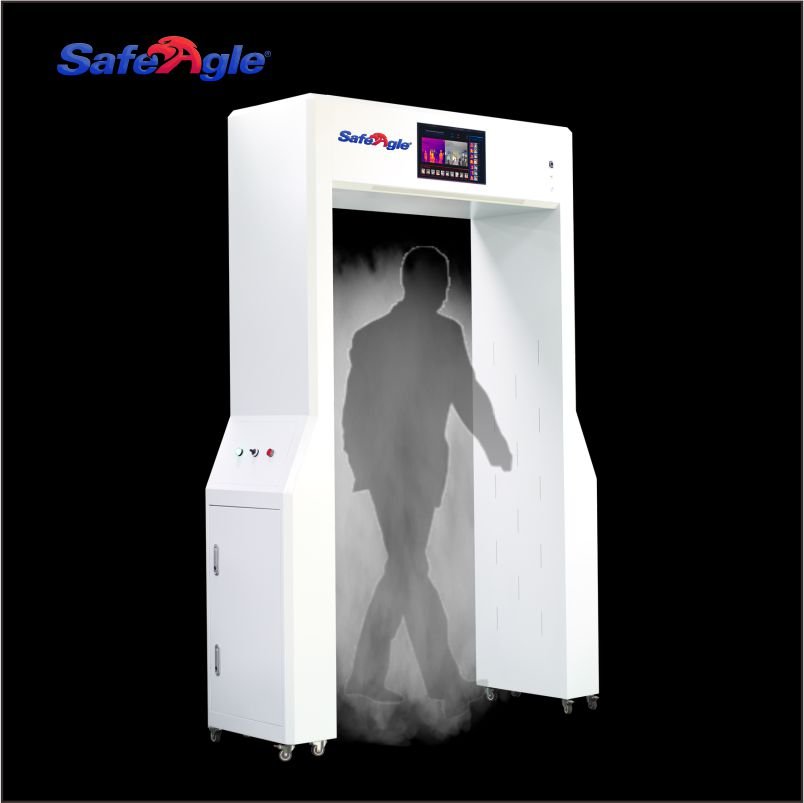 Parameters
Disinfection Tunnel
1. Tunnel Size………………..: 2002(H)x840(W)mm
2. Tank(2) Storage Volume………….: 15L/tank(two sides)
3. Spray Jet Pitch-row……..: 100mm
4. Spray Velocity…………….: 1~10 gear
5. Consumption…………….: 1 hour(Min.) at 10 gear keep spraying
6. Material…………………….: Zinc Coated Steel
7. Passing Rate……………….:70 Persons/minute
8. N.W…………………………..: 150kg
9. Dimension…………………: 2302(H)x1280(W)x550(D)mm
10. Output…………………….: 48V
Thermal Camera
Visible Light
Appearance
Aviation aluminum packaging binocular thermal imaging
Sensor Type
1/28 inches CMOS
Type of Use
Temperature Detection
Maximum Resolution
1920*1080
Sensor Type
VOx Uncooled Thermal Sensor Technology
Pixe / SNRl
200W/>56dB
Effective Pixel
320*240
Horizontal Resolution
≥1100TVL
Pixel Size
17µm
Gain Control
Automatic
Spectral Range
8µm~14µm
DEFOG
Electronic through fog
Thermal Sensitivity(NETD)
≤50mK at f/1.0
Electronic Shutter
1s~1/30000s
Focal Length
6.52mm
Focal Length
4mm
Angel of View
H:34.4°

V:25.8°

Angel of View
H: 84°

V: 45°

Opposite angles: 99°

Focus Control
Athermalization
Wide Dynamict
DWDR
Lens Aperture
F1.0
Optical Lens Aperture
F2.0
Image Intensification
Support
Strong Light Inhibition
Support
Electronic amplification
Support
Exposure Compensation
Support
Thermal imaging Gain Control
Automatic
Visible Focusing Mode
Manual
Noise Reduction
2D noise reduction

3D noise reduction

Noise Reduction
2D noise reduction

3D noise reduction

5, Including:

White Hot, Black Hot, Ironbow, Arctic, Rainbow HC

Minimum Illumination
Color: 0.05Lux@

(F15, shutter time: 1/30s)
Black & White: 0.0005Lux@

(F15, shutter time: 1/30s)
Opening of infrared light: 0Lux

Temperature Range
20℃~45℃
Power Supply Mode
DC12V±20%,POE(802.3af),ePOE
Accuracy
Without black body:±0.3℃

With black body:±0.1℃

White Balance
Automatic/indoor/outdoor/tracking/manual/sodium lamp/natural light/street lamp
Operating/Storage Temperature Range
0℃~40℃/-20℃~60℃
Consumption
<50W(DC12V, Basic power consumption)

<12W(DC12V, Maximum power consumption, Adapter not included)

Detection Range
1-3m
Close Range of Visible Light
0.2m
Note:
The Thermal camera Sterilization Disinfection Gate SEDT-N2 is the preliminary temperature screening and disinfection system, which does not diagnose if someone has corona virus, but could help determine if someone has an elevated temperature and needs further attention or detection.