X-Ray Baggage Screening Trays SE-B002 Special for Security Inspection Machine
---
X-ray Screening trays are an indispensable part of the X-ray security screening process and are used to hold personal items containing metal such as mobile phones, laptops, belts, bracelets coins shoes, etc. to be sent through an X-Ray Baggage Scanner. So, A high-quality security inspection basin can better assist the security inspection process. Safeagle SE-B002 X-Ray Baggage Screening Trays are specially designed to cooperate with the X-ray baggage scanner. The PP material has the advantages of Wear Resistance, Drop Resistance, and Stress Resistance. The most important thing is that it has no adverse effect on X-ray baggage imaging. It is an ideal security solution for use at security checkpoints, transporting passengers' personal items through X-Ray Screening scanners.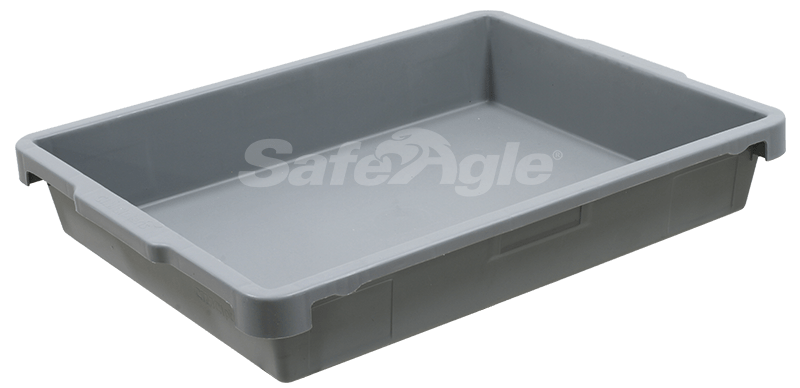 GENERAL SPECIFICATION

External Size:

680(L)x 520(W)x 110(H)mm

Internal Size:

610(L)x 450(W)x 100(H)mm

Material:

PP

Net Weight:

1.665kg

Safeagle SE-B002 is designed to transport screening and is used in security screening operations such as at Airports, Seaports, Border Crossings, etc. Suitable for X-ray Baggage Scanner with channel inlet size above 520(W) x 110(H) mm, such as HP-SE5335, HP-SE6040, or bigger. Not suitable for X-ray Baggage Scanner with channel inlet size smaller than this size, such as HP-SE5030, HP- SE4333.

The test results prove that SE-B002 has no adverse effect on the package imaging in the security inspection, and there will be no image interference caused by the overlapping and occlusion of the items by the SE-B002 X-Ray Baggage Screening Trays.
---
About Us
Safeagle ( Shenzhen JinJian Era Technology Co., Limited ) was founded in 2014, and which headquartered in the beautiful coastal city - Shenzhen, China. It is a technology-oriented enterprise integrating R&D, manufacturing, sales, and service of security inspection equipment.
As an excellent manufacturer providing full public safety solutions, its main products include X-ray Security Inspection System, Walk-through Metal Detector, Explosive Detector, Body Temperature Detector, Under Vehicle Inspection System, Sterilization Disinfection System, etc.
At present, We hold our own core technology, independent intellectual property rights, and a number of national patents passed CE, FDA, and RoHS certification, and products have been exported to more than 80 countries through distributors and agents, cover critical infrastructure, public security, express logistics, the customs, rail transportation, civil aviation, and other industries.
"Make The World Safer" is not just the name of our code of conduct. It is a reflection of the high standards we set for ourselves. We provide professional security solutions and first-class equipment. We recognize the importance of partners and work with customers around the world to build a safer world. We let the commitment of trust and mutual advocacy give us the impetus to move forward.
Safeagle The professional security solution provider. Aimed at building a service platform that includes high technology, R&D, manufacture, and sales in the security manufacture.
---
Safeagle - X-Ray Baggage Screening Trays SE-B002 for X-ray Scanning