Shoe Sole Metal Detector SE-SD08
---
Safeagle SE-SD08 Shoe Sole Metal Detector belongs to a kind of fixed installation detection equipment, which is mainly used to check the metal objects hidden in the soles of people's shoes. When the inspected person stands at the designated position of the detector, if there is metal in the shoes, the detector will immediately alarm, so that the security inspector can discover and take out the metal carried by the person in time.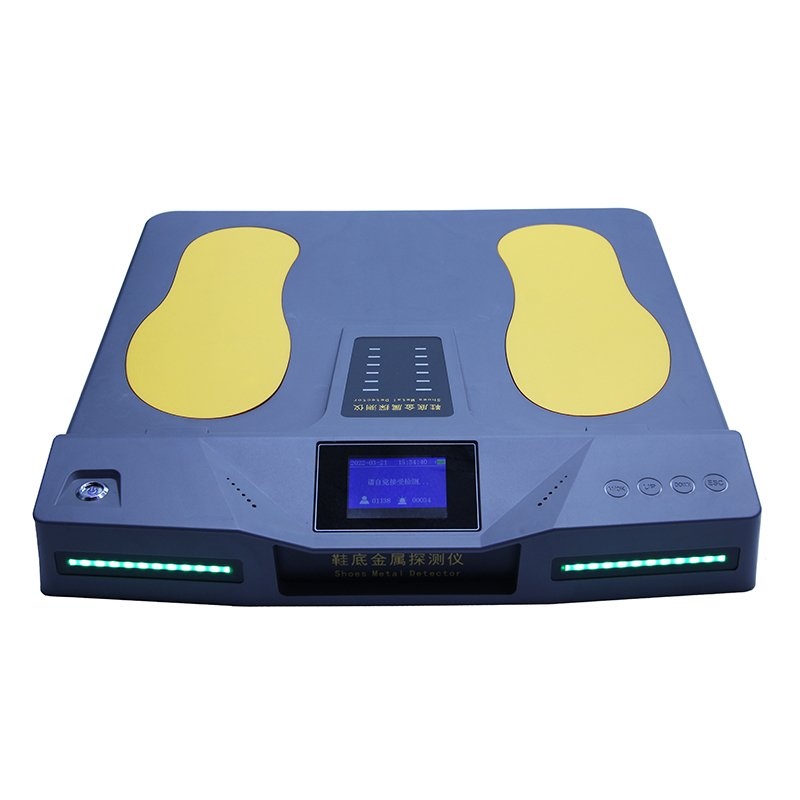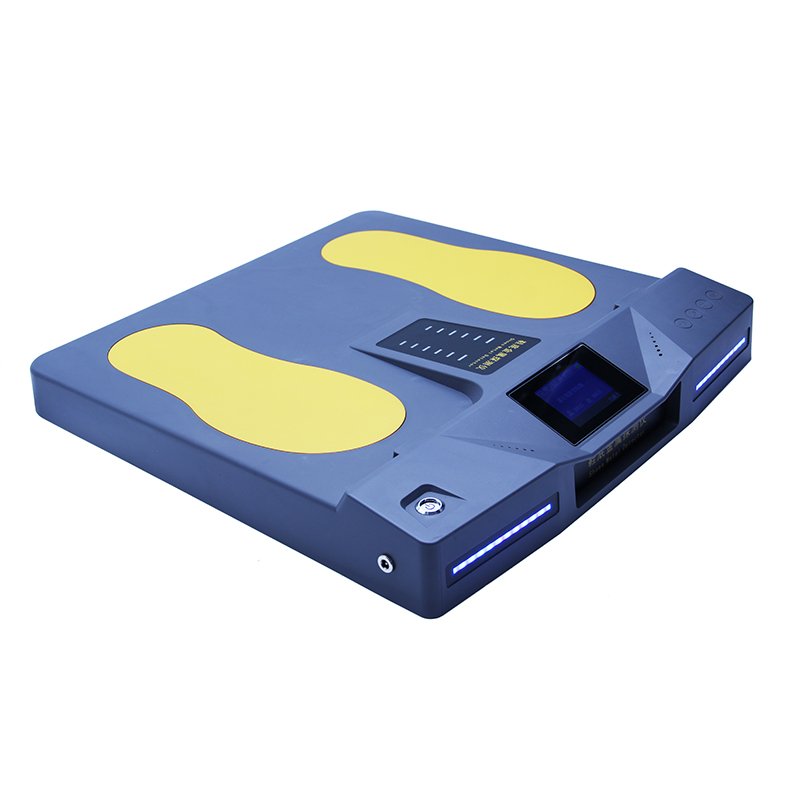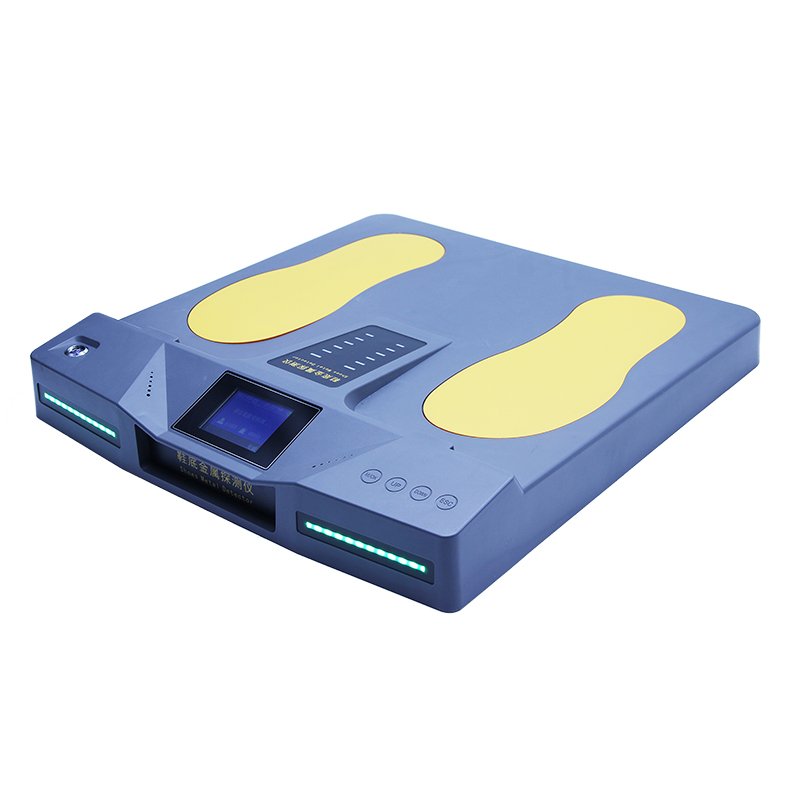 PRODUCTS FEATURED
1. High Sensitivity Detection: The smallest detectable metal object the size of a staple.
2. Voice, Sound, and Light Alarm: Voice alarm prompt and LED red alarm signal.
3.Strong Anti-Interference Ability: Power-on self-adjusting frequency anti-interference, multi-huanj1 mode optional.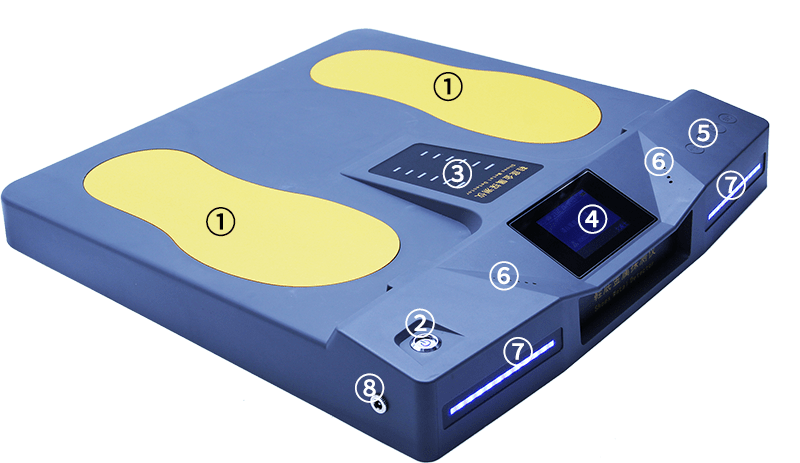 1. Detection Area: The foot position of the inspected person.

2. Power Switch: Automatically lock when pressed, with a blue indicator light.

3. Metal Intensity LED indicator: When detects nearby the presence of metal. The indicator light will be lit according to the metal intensity. The more the indicator lights are on, the higher the metal intensity.

4. LCD Screen: Standby display, parameter setting display.

5. Touch button: Adjust detector parameters, such as language switching, usage scenarios, sensitivity adjustment, etc.

6. Speaker: Output key tone, alarm tone, voice prompt, etc.

7. Indicator Light Belt: Standby blue, Non-metal green, Metal detect red

8. Charging Hole: Plug in the charging adapter to charge the built-in battery

Alarm mode:

intelligent voice, light alarm

Weight:

300kg

Net weight:

about 3.5kg

Dimensions:

436mm(L) * 416mm(W) * 63mm(H)

Working power supply:

DC12V

Working current:

110mA

Working power:

≤10W

Standby power:

≤2W

Working temperature:

-5C~+50℃

Note: The installation environment cannot be installed near large metals with strong electromagnetic wave interference, or infrared wave interference, and the closest distance to large metals should not be less than 50 cm, and the optimal distance should be more than 1 meter.
About Safeagle
Safeagle ( Shenzhen JinJian Era Technology Co., Limited ) was founded in 2014, which headquartered in the beautiful coastal city - Shenzhen, China. It is a technology-oriented enterprise integrating R&D, manufacturing, sales and service of security inspection equipment.
As an excellent manufacturer providing full public safety solutions, main products include X-ray Security Inspection System, Walk-through Metal Detector, Explosive Detector, Body Temperature Detector, Under Vehicle Inspection System, Sterilization Disinfection System, etc. At present, We holds own core technology, independent intellectual property rights, and a number of national patents, passed CE, FDA, RoHS certification, and products have been exported to more than 80 countries through distributors and agents, covers critical infrastructure, public security, express logistics, the customs, rail transportation, civil aviation, and other industries.
"Make The World Safer" is not just the name of our code of conduct. It is a reflection of the high standards we set for ourselves. We provide professional security solutions and first-class equipment. We recognize the importance of partners and work with customers around the world to build a safer world. We let the commitment of trust and mutual advocacy give us the impetus to move forward.
* Pls contact us for further details of Safeagle Walk Through Mobile Phones Detector SE-SD08.
---
Shoe Sole Metal Detector SE-SD08