Walk Through Mobile Phones Detector SE2007
---
SE2007 AI Mobile Phone Detector uses the principle of electromagnetic induction to obtain the material information of the detected metal objects. This product can effectively eliminate the interference of coins, glasses, watches, belt buckles, magnets, keys, cigarettes, lighters, stainless steel cups, umbrellas, and other daily carry-on items and accurately distinguish whether you are carrying a mobile phone, mobile hard disk, laptop, IPad, Digital cameras, video cameras, and other confidential electronic products.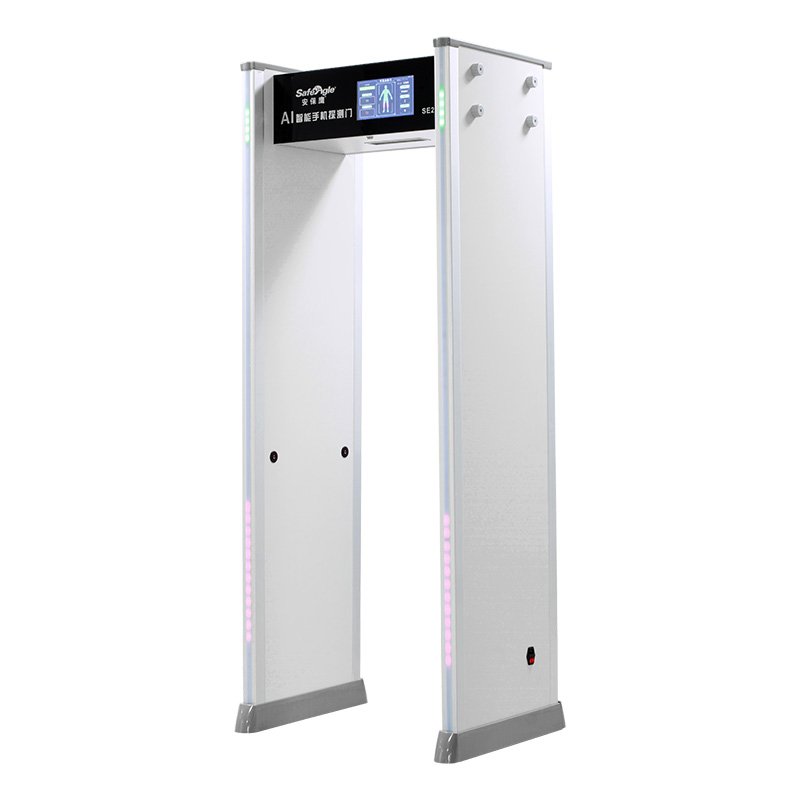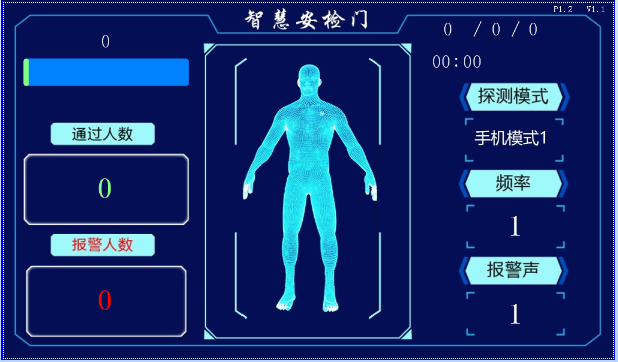 Intelligent Identification: Automatically identify and exclude daily necessities for mobile phone detection.
Wide-body Door Design: Shell is stable, strong, durable and non-deformable.
Auto Calibration: System is equipped with automatic calibration to shield interference.
Graphical Signal: Detection signal is displayed graphically and the status of the equipment is clear at a glance.
USB Upgrade: Application software can be upgraded to multiple locations via USB.
Alarm Function: 8 areas on the left and right sides, warning the mobile phone alarm position.
Modular Components Design: Transportation and maintenance are convenient and quick.
Signal Graphics: Daily necessities are excluded, and only mobile phones are tested.
Daily Necessities Filter: There are LED lights on all four sides, which can intuitively pass through the positioning lights to display the area where prohibited items are located, and the viewing angle can reach 360°.
Four-Side Positioning Lights: With voice alarm, light bar flash alarm function.
High-Performance CPU: Using 6-core, high-performance chips, the main frequency exceeds 1.8GHz.
Remote Control: Touch screen operation, set parameters, parameters can be password protected, unauthorized personnel cannot operate.
Network Management: A communication interface is reserved for data sharing with computers and security inspection platforms.
Linkage Function: A linkage interface is reserved for linkage control with wing gates and tripod gates.
Safety Protection: Comply with international safety standards, harmless to pacemaker wearers, pregnant women, magnetic media, etc.
| | | | | |
| --- | --- | --- | --- | --- |
| Detection Area | 8 | | Operating Voltage | AC110V/240V,50/60Hz |
| LCD Touch Screen Size | 10.1 | | Working Temperature | -20℃-+45℃ |
| Overall Sensitivity | 0~255Level | | Door Panel Size | 2215(H)x650(W)x60(D)mm |
| Frequency Band | 1~12 | | Chassis Size | 230(H)x710(W)x400(D)mm |
| Power Consumption | <30W | | N. W | 80KG |
| Through Rate | 0.4m/s~1.2m/s | | G. W | 100KG |
| Channel Size | 2000x720mm | | Dimensions | 2215(H)x830(W)x700(D)mm |
About Safeagle
Safeagle ( Shenzhen JinJian Era Technology Co., Limited ) was founded in 2014, which headquartered in the beautiful coastal city - Shenzhen, China. It is a technology-oriented enterprise integrating R&D, manufacturing, sales and service of security inspection equipment.
As an excellent manufacturer providing full public safety solutions, main products include X-ray Security Inspection System, Walk-through Metal Detector, Explosive Detector, Body Temperature Detector, Under Vehicle Inspection System, Sterilization Disinfection System, etc. At present, We holds own core technology, independent intellectual property rights, and a number of national patents, passed CE, FDA, RoHS certification, and products have been exported to more than 80 countries through distributors and agents, covers critical infrastructure, public security, express logistics, the customs, rail transportation, civil aviation, and other industries.
"Make The World Safer" is not just the name of our code of conduct. It is a reflection of the high standards we set for ourselves. We provide professional security solutions and first-class equipment. We recognize the importance of partners and work with customers around the world to build a safer world. We let the commitment of trust and mutual advocacy give us the impetus to move forward.
* Pls contact us for further details of Safeagle Walk Through Mobile Phones Detector SE2007.
---
Walk Through Mobile Phones Detector SE2007 - Safeagle