Safeagle Portable Digital Body Temperature Detector Box SE101-I
---
Product Introduction
The SE101-I Smart and Small Body Temperature Detector can quickly measure the temperature in the detection area to ensure accurate and efficient temperature measurement, back with a built-in battery for more than 24 hours working. With sound and light signals of voice warning of normal/abnormal temperature and indicator to remind around people, support high-efficiency body temperature screening in public dense crowds to effectively prevent disease infection. Also, it can be used as a single device, or integrated on Walk Through Metal Detectors, access control systems, disinfection equipment, and other devices. Abnormal temperature alarm function. LED display in real-time. Built-in rechargeable battery, Fahrenheit and centigrade switch. The back bracket can be installed anywhere. Make it easy to use in various public places and various places where face access control is required, like school, community, office place, hotel, hospital, etc...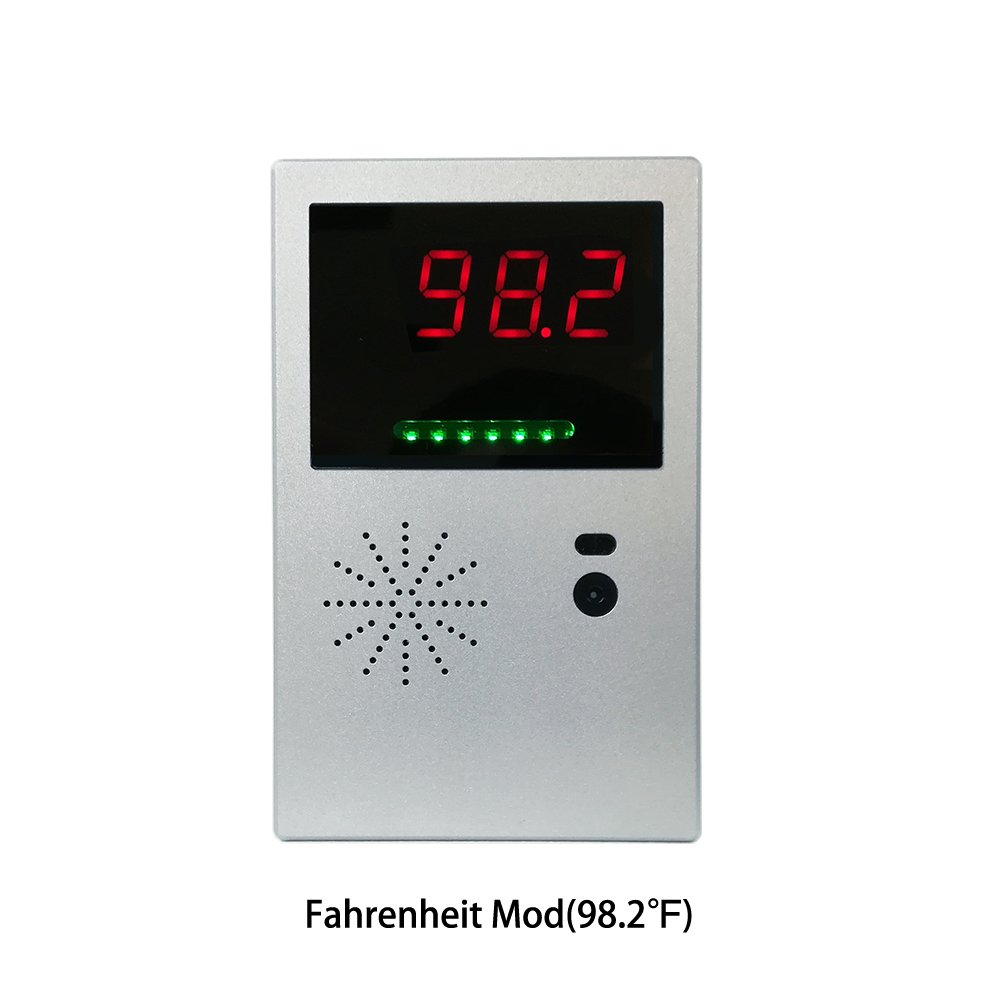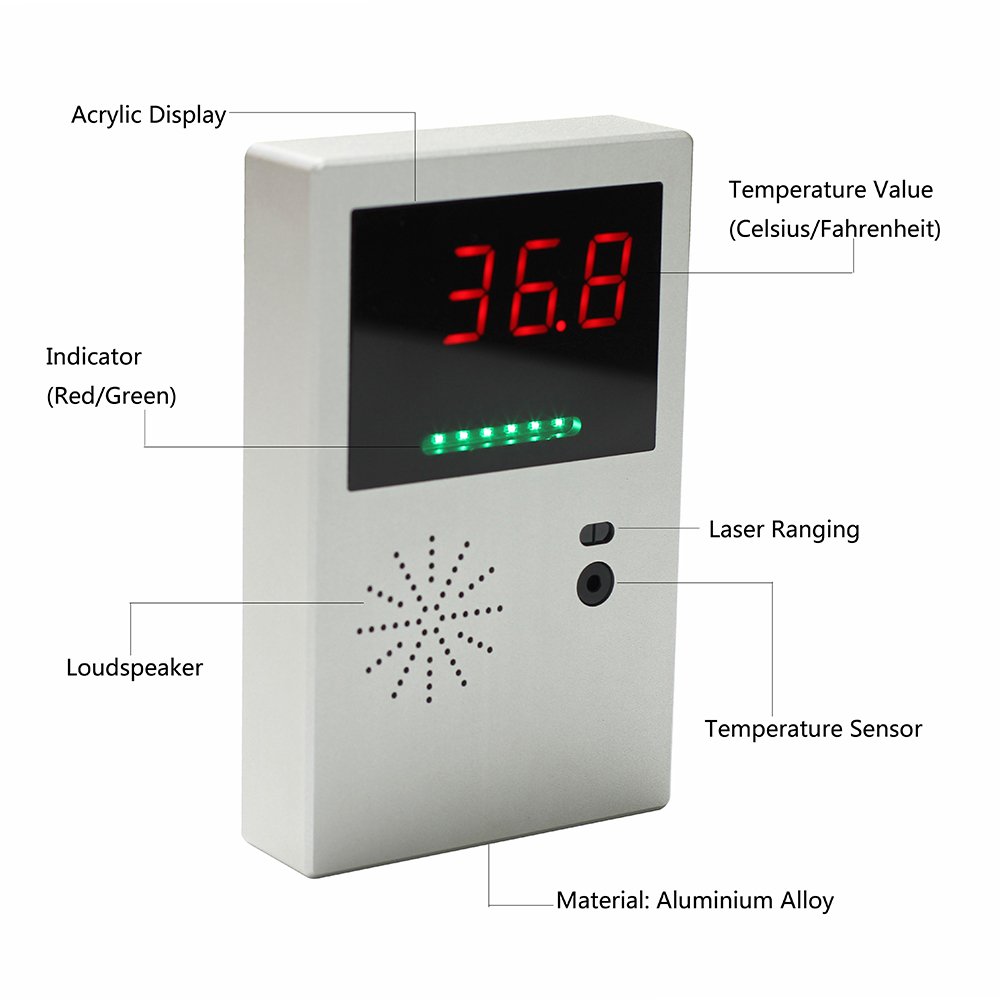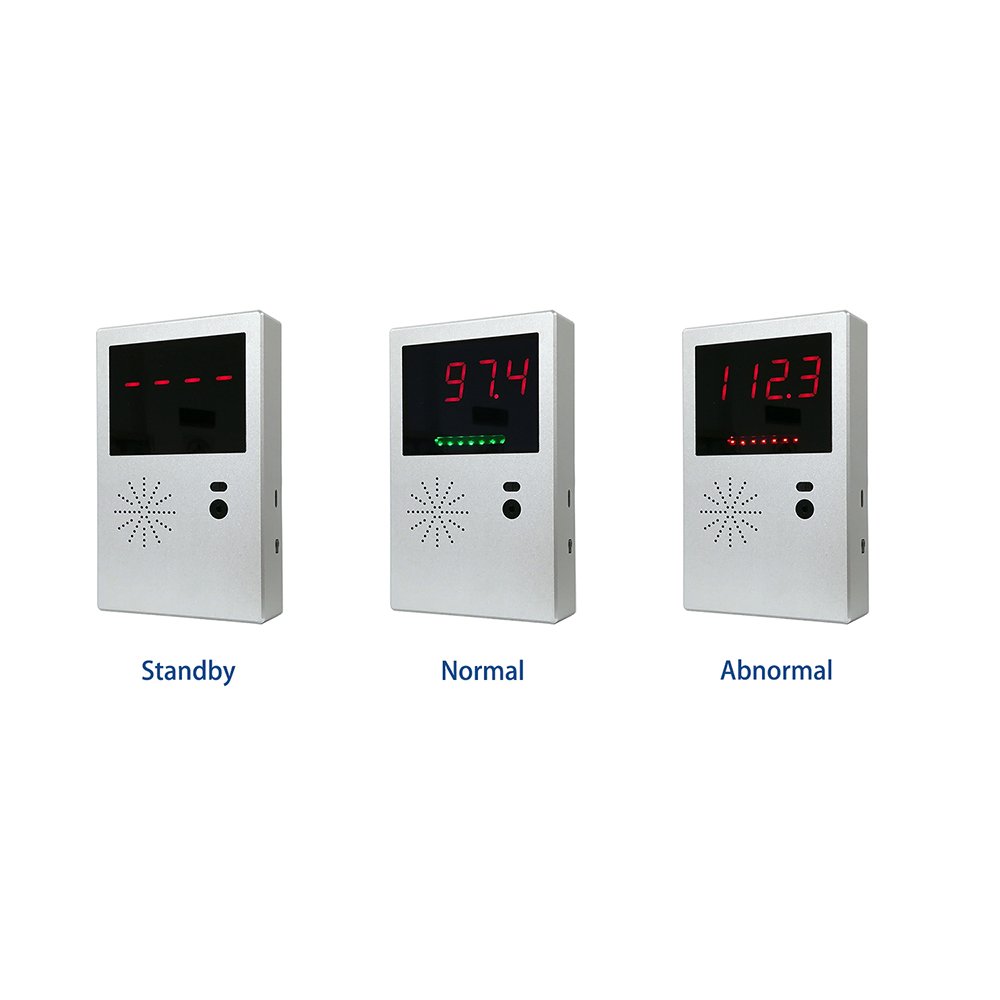 Parameter
Alarm Threshold:

37.3℃(factory set)

Consumption/Voltage::

8W/5V

Sound Alarm:

If more than 37.3℃

Size:

155*98*31mm

Voice Broadcasting Content:

Safe/Abnormal

Packing Size:

215*125*125mm/ctn

Volume:

Non-adjustable

N.W./G.W.:

0.59kg/1.32kg

Alarm Duration

Within 3s

External Power:

AC 100~240V, 50/60Hz

Rechargeable Lithium Battery:

1400mAh*1(18650), 5.18Wh

Packing List

Temp.Detector(Sliver)

Power Cable*1

Set Screws

Detection Distance/Speed:

2-10cm/0.5s

Accuracy:

±0.3℃

Optional Accessories

Holder-Stand*1

Temperature Unit:

Celsius/Fahrenheit(Adjustable)

Holder-Wall-mounted*2

Working Temp./Humidity:

-10~40℃/95%

Rechargeable Battery*1
● Non-contact Dynamic Temperature Measurement of Higher Efficiency Screening for 24h. Can quickly screen and identify abnormal temperature targets, can detect both forehead and wrist.
● Original Belgium Melexis Brand Sensor with High Precision. Stable Performance, actively collect temperature data, quick scan temperature around 0.5 seconds.
● Detection Distance 1-5cm sensing distance and height can be placed or installed according to the user's requirements.
● Equipment Material-Aviation Aluminum. Be made of aviation aluminum, more durable, and not easy to be deformed or damaged while transportation.
● Safeagle Exclusive Modular Design. It can be single-use or integrated on other devices, such as a walk-through metal detector, access control system, etc.
● Adopts STM program, Prevent High-Temperature False Alarm. Smart start temp-measure can prevent false alarms caused by high temperature and direct sunlight.
● Plug and Play, Easy Operation. No need for extra configuration and technicians, No environmental temperature restriction, even -10℃ still works.
Product Certification

Notice:
Installed and stored in normal temperature, and in a cool, ventilated, flat, dry place, avoid direct sunlight.
Don't block the sensor and ultrasonic module when starting and using.
No intentional collision on the system.
About Safeagle
Our team was founded in 2004, headquartered in the beautiful coastal city- Shenzhen, China. It is a technology-oriented enterprise integrating R&D, manufacturing, sales, and service of security inspection equipment. Safeagel, The Professional Security Solution Provider, To Make The world More Safer.
---
Please contact us for further details of the Safeagle SE101-I Non-contact digital display body temperature detector Box