X-ray Baggage Scanner HP-SE7555C with Dual Energy High-Quality Imaging to Find Explosives
Safeagle® Systems' state-of-the-art high-performance X-ray baggage scanner, solutions, and services perfectly meet the most demanding potential threat inspection needs at border crossings, railway stations, shopping malls, hotels, government and military installations, and high-risk facilities all over the world. It is ideal for the small footprint sites.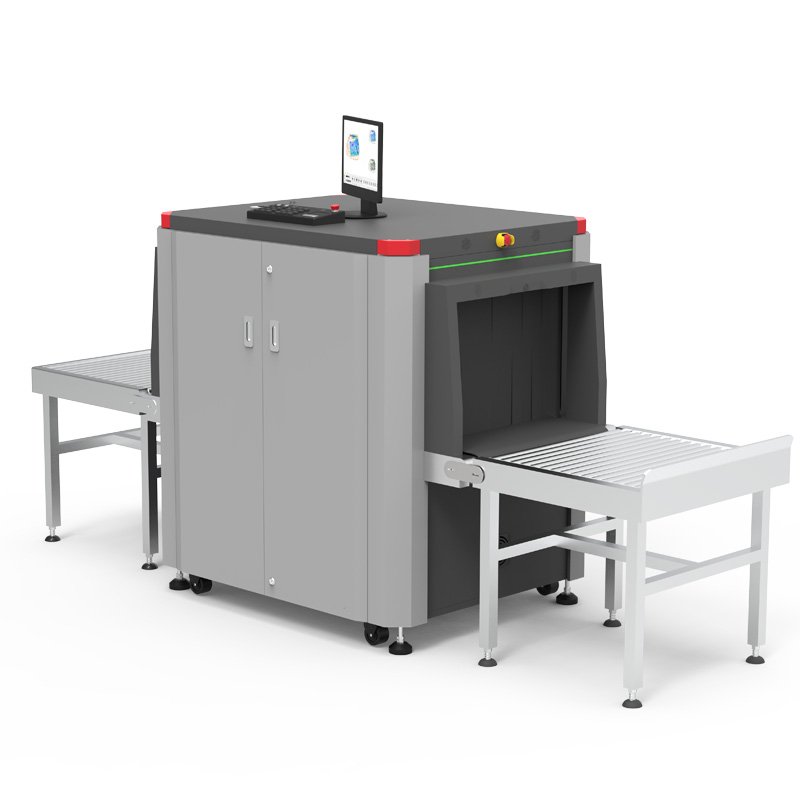 KEY FEATURES
Switchable 4/7 Color Imaging
Dual-Energy Clear Imaging & Split-screen Technology
Higher Throughput
Networking & Remote Viewing
DIMENSIONS CONVEYOR BELT

| | | | | |
| --- | --- | --- | --- | --- |
| Tunnel Size: | 755(W)x 555(H)mm (29.7x21.9 in.) | | Maximum Conveyor Load: | 165Kg (363lb) Evenly Distributed |
| System Length: | 2,121 mm (83.5 in.) | | Conveyor Height: | 710mm(28.0 in.) |
| System Width: | 1080 mm (42.5 in.) | | Conveyor Speed: | 0.23m/s |
| System Height: | 1,502 mm (59.1 in.) | | Noise Level: | <45DB |
| System Weight: | 560kg(1234lb) | | Material: | Diamond Cloth and Lead |
X-RAY GENERATOR

| | | | | |
| --- | --- | --- | --- | --- |
| Anode Voltage/Current: | 140KV; 0.5MA | | X-Ray leakage: | 0.1µGy/h |
| Penetration: | 36mm steel typical | | Beam Direction: | Diagonally Upward |
| Wire Resolution: | 40AWG | | Film Safety: | Guarantee up to ISO1600(33DIN) |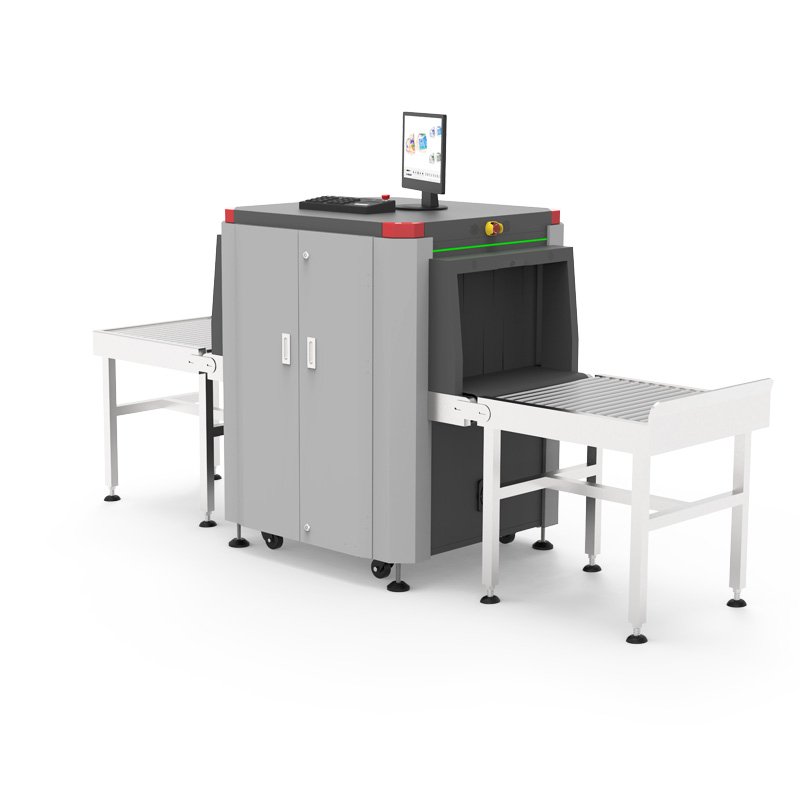 SPECTRUM 4 AND 7 COLORS IMAGING
Safeagle High-end Imaging Detection System(HIDS) is supported by the advanced 7 colors x-ray imaging technology, enabling the operator to achieve optimal material identification by allowing them to view screened objects in 7 colors, each color correlating to a specific range of Atomic Z-numbers.
ASSISTANT DETECTION OF EXPLOSIVES AND NARCOTICS ALERT(ADENA)
The ADENA is designed to assist operators in the real-time detection of a range of explosives and narcotics respectively during the scanning process by automatically highlighting a suspicious threat on the X-ray images. Safeagle ADENA detection algorithms are based on material atomic Z-number analysis techniques, which greatly improve the inspection and help to find the threats effectively.
MATERIAL CLASSIFICATION
Safeagle System provides the material stripping tools for organic, inorganic, and mixture, which can show one category of them individually in the cluttered images on the screen. Once the Inorganic button is pressed, the organic objects and mixture objects are shown in gray, therefore emphasizing the inorganic objects clearly such as metal, gun, knife, bullet, dagger, etc.
EASE OF USE PROVIDING HIGH PROTECTION LEVEL
The Safeagle HP-SE6040C X-ray Baggage Scanner is supported by a rigid-steel structure, is a complex of modern aesthetics.
Equipped with a double symmetrical swing door at its both sides for convenient repair and maintenance;
4 two-in-one pilot lamps are located on the four corners of the top machine, which will alert when x-ray on and DTA activated;
4 high-strength caster wheels at its base for ease of maneuverability, enable operators to move the scanner easily;
Offer adjustable wear-resistant foot cups to achieve stability and security during use;
The button and key switch are securely located on top of the x-ray security scanner, can easily on-key open and close the machine anytime.
FULLY-EQUIPPED SYSTEM
This HPSE6040C X-ray Baggage Scanner could be incorporated with different accessories, which can fully meet the operational requirements of the end-user.
Safeagle Control Unit
21.5" LCD Touch Screen
Multi-Angle Cameras
Protective Cover
Supervisor Monitor Platform
Intelligentized Roller
Voltage Stabilizer
Entry / Exit Roller Tables, 0.5 m increment
Backup: Uninterrupted Power Supply for PC (20 min)
GOVERNMENT REGULATORY COMPLIANCE
The Safeagle HPSE6040C X-ray Baggage Scanner is in full compliance with the mandatory regulations for aviation security in the European Union.
RADIATION SAFETY PERMIT
CE MD DIRECTIVE 2006/42 EC&LVD DIRECTIVE 2014/35/EU
FCC 47 CFR PART 18 REGULATION & ANSI C63.4 CLASS B
RoHS DIRECTIVE-2016/65/EU EN62321.2008
* Pls contact us for further details of Safeagle HP-SE7555C X-ray Baggage Scanner.